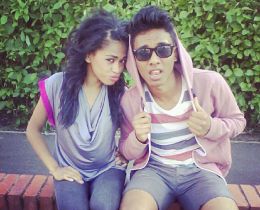 Looks like we're gonna have two major weddings!
03. 04. 2018 | Celebrities
Deepika Padukone and Ranveer Singh May Be In For a Year End Wedding And Here's What You Need to Know About It....

Ranveer Singh and Deepika Padukone who have been dating for several years now, but have never openly accepted their relationship, are the next couple on the list, who fans can't wait to witness making it official! The couple has always remained tight-lipped about any marriage plans. Ranveer had dissed the idea in conversation with India Today, clearly stating, "I don't know where that's coming from, but yes, of course, these are things I think about...As much as I am consumed by work at the moment, these things are on my mind. But there's nothing decisive, as of now."
However, a report by Mumbai Mirror fired up things when they officially talked about the duo tying the knot this year! Apparently, Ranveer, Deepika and their families have short-listed four auspicious dates between September and December for a year-end wedding, after which the Bhavnanis and Padukones were reportedly looking for wedding venues in India and abroad before locking the final date. In fact, Deepika with her younger sister Anisha and their mother, has also started her bridal trousseau shopping. The source said, "It will be an extremely private, traditional Hindu ceremony with the couple tying the knot in the presence of only close friends and family. The couple is still deciding if they want a reception to follow."
Deepika and Ranveer have stopped shying away from the paps, and are often seen together, even though they never admit anything publicly. According to the same source, "They had just returned from their week-long holiday in the Maldives and their respective parents had recently blessed the alliance. It was the perfect moment to celebrate the union and the couple didn't shy away from the photogs as they left together in Ranveer's car."
Around DP's birthday, Ranveer's parents had even gifted her a Sabyasachi saree (knowing her fondness for it) and both sets of parents have reportedly sat down and discussed the wedding details. You wouldn't be surprised to know that Ranveer, who is wrapping up Zoya Akhtar's Gully Boy and following it up with Rohit Shetty's Simbbaa next, has cleared his work schedule for the year-end and will start working on the Kapil Dev biopic, only at the beginning of 2019, while Deepika has also blocked her dates for the year end.
If you thought that 2018 will be marked by Akash Ambani and Shloka Mehta's wedding only, think again!
Comments